Home
Bars & Restaurants
Bars
Piano Bar Fitzgerald
Piano Bar Fitzgerald
The Fitzgerald Bar at the Hôtel Belles Rives belongs to a very exclusive group of historic and heritage cafés in Europe (Cafés Historiques et Patrimoniaux d'Europe). Club chairs, panoramic views, Master paintings, authentic parquet flooring….offset by a breath-taking view from the terrace where the setting sun is all the more magical.
True to the Art Deco spirit, the decor has been meticulously researched. An original leather bar, a unique fresco retracing the Riviera's coastline, the Fitzgerald Bar is above all a place that offers an authentic and inimitable experience.
Essentially a 'living room', an all-day 'eatery' menu is available, a Champagne and cocktail bar, it remains unlike any other hotel bar in the world…
In the evenings, a certain elegance takes hold as the sun sets to the melody of the piano; the night remains tender with a distinguished atmosphere, assisted by the masterful creative talents of our Barman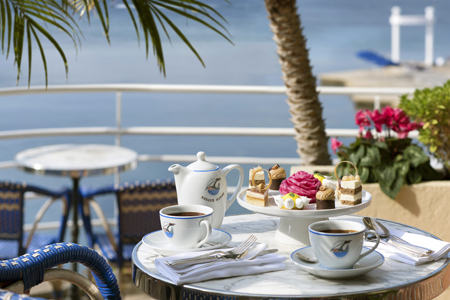 Réservations : +33 4 93 61 02 79 - info@bellesrives.com
The Fitzgerald Bar is open every day from 3pm to 11pm.
Food menu available from 6:30pm to 10:00pm
The Bar Fitzgerald is located 250 mètres away from the Juana at the Belles Rives